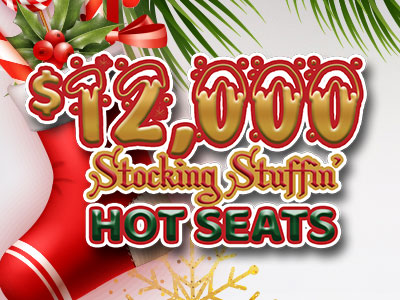 $12,000 Stocking Stuffin' Hot Seats
Mondays, Tuesdays & Wednesdays | December 6 – 8, 13 – 15 & 20 - 22
Hot Seat winners will be randomly chosen to receive Free Play prizes every hour!
That's 11 Winners Every Day!
$150 Free Play at Noon and 5PM
$100 Free Play from 1PM – 4PM & 6PM – 9PM
$250 Free Play at 10PM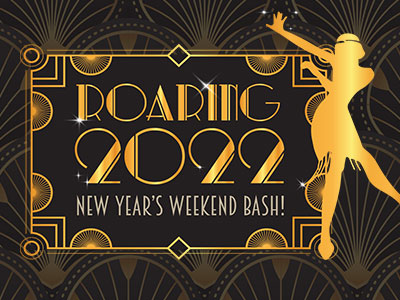 Roaring 2022 New Year's Weekend Bash!
Celebrate the New Year! Over $21,000 in Cash & Prizes!
Friday, Saturday & Sunday | December 31, January 1 & 2
Friday, 12/31/2021
12PM – 4PM $222 Free Play every 30 minutes
7PM – 11PM $222 Free Play every 30 minutes
11PM – 12AM 2 - $2,022 CASH
Saturday, 1/1/2022
12PM – 4PM $222 Free Play every hour
7PM – 11PM $222 Free Play every hour
11PM – 12AM 2 - $2,022 CASH
Sunday, 1/2/2022
12PM – 4PM $222 Free Play every hour
5PM, 6PM & 7PM $2,022 CASH every hour